The rainforest is a great thematic unit topic! You can even do it year after year and still not run out of things to learn about and do. Depending on your child's age you can focus more on learning fun facts about animals in the rainforest or you can dive into biodiversity and conservation. Here are some ideas to get you started on your rainforest unit.
My Favorite Rainforest Books:
Animals in the Rainforest
Read books or search on the web to find out some information about your child's favorite rainforest animal. Try out some of these crafts below:
Rainforest Model
Create a model of the rainforest like the one at the left here. You could research animals that live in each layer of the rainforest and make or buy plastic animals to fill your model. So cool and this project would keep kids busy for days! Think of all the questions that could come up as you begin to build your model. Perfect for engaging students in scientific inquiry.
Recipes
We get a lot of important things from the rainforest. To help kids understand how protecting the rainforest is important to tell, try some of these yummy recipes. These recipes are only made possible because of ingredients found in the rainforest! Imagine, going without chocolate one day!
Chocolate Study
You could seriously spend a week JUST studying chocolate but for our rainforest unit we just spent one day focused on it. I really wanted to tie how chocolate and the health of the rainforest go together.
First, start by reading this book No Monkeys, No Chocolate it talks about how several rainforest animals work together to help the cacao tree survive.
Here are some Youtube videos about how chocolate is made: Cacao to Bar, Milk Chocolate from Scratch
Free chocolate unit to help kids understand the importance of fair trade chocolate.
Endangered Animals
Learning Hypothesis has a detailed post all about ecosystems, biodiversity and conserving endangered species. Check it out if your child is really interested in learning more about this.
Make Binoculars
Become an researcher! Make binoculars and go outside to look for animals that live around you. Get full instructions here.
Want more ideas and detailed plans?
Check out my Rainforest thematic unit below!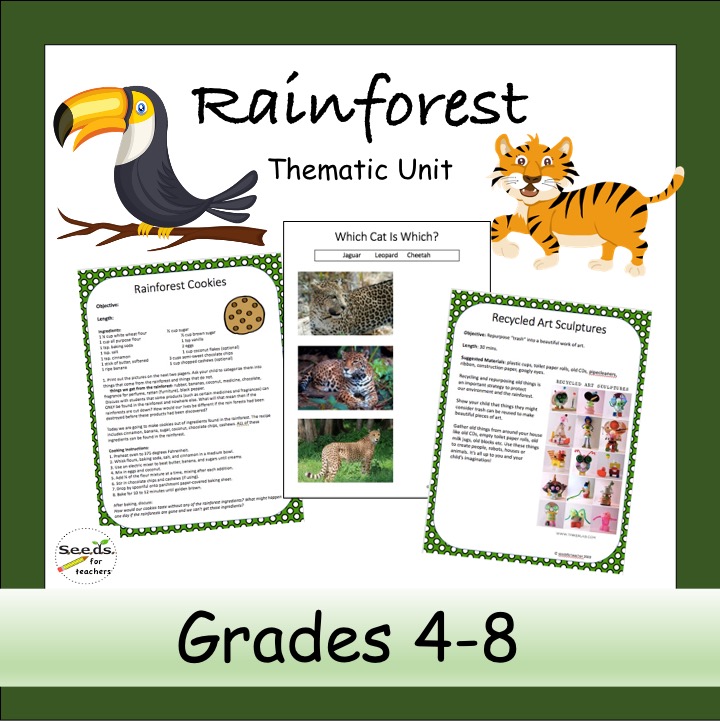 Here are some other ideas for units you can do at home!