Having open and regular communication with parents is so important. Teachers should communicate often to parents regarding events in the school, student's academic progress and their behavior progress. This post focusing more on ways you can communicate with parents about student behavior. If you haven't read my post on my favorite classroom management systems, check it out by clicking the link. You might also find my post about documenting student behavior helpful.
Parent Mail
Students and parents love receiving small, positive letters from educators. You can find all kinds of samples online or create your own. Print a few copies to have ready. When a student has a great day or does something extra "noteworthy" write their name on the small note and send it home with them. Sometimes I use these notes as a reward related to my classroom management system. Their "prize" for achieving whatever goal the class had would be a note home from me.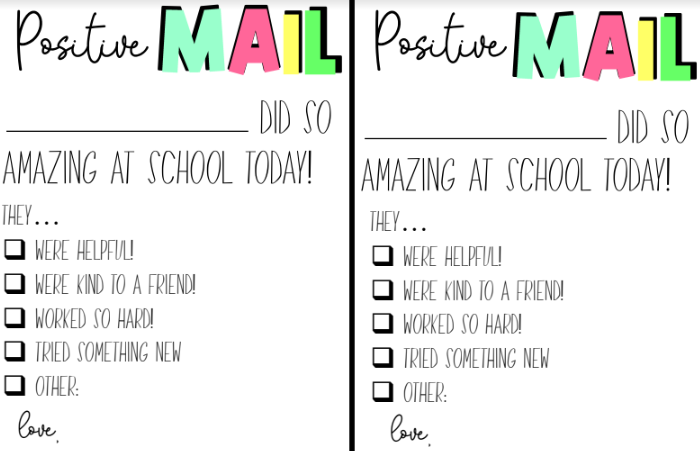 Glow and Grow Notes
A glow note is a note that shares about something great the student did that day. A grow note is when you share about a poor choice or misbehavior that the student made. Write the note and send it home with the child. If it is a grow note, I usually ask the student to get the note signed by their parent and bring it back to me the next day. Or I email the parent telling them the note is in their child's backpack and to please review it. Teaching Exceptional Kinders has two free examples of glow and grow notes. Version 1 is pictured below. Version 2 is for younger students and includes pictures.
Individual Weekly Reports
I've seen (and used) the daily behavior reports where students color each day based on the type of behavior they showed that day. However, sometimes this can be difficult to keep up each day. And if you don't use the clip behavior chart as your go to classroom management system then the daily progress report will be even more difficult to keep up with.
I recently saw this weekly behavior report and thought it seemed really interesting. Print one copy of this form for each student in your class. Use the form to record a note about each student's behavior at the end of every week. Send the form home for parents to sign over the weekend and then return back to school. This keeps parents VERY informed about what is going on in class. It also provides you a way to track behavior over a long period of time. If you ever need to call for a meeting with parents because behavior is not improving, you can refer back to the sheets and point out the pattern of behavior that has been developing.
More Posts You Might Like: