Are you looking for some great STEM ideas to use this November? Here are my favorites! You can download a free poster of each of these challenges at the bottom of the page.
1. Create a turkey trap
Before beginning this project, I love to read the book How to Catch a Turkey by Adam Wallace & Andy Elkerton. This really gets students thinking about the attributes of a turkey and what's the best way to try to catch him.
Now, give your students some supplies such as straws, popsicle sticks, pipecleaners, toilet paper rolls etc. and let them try to build something to trap the turkey in. If you want an organized planning and reflection sheet try out this product from a fellow TPTer. It even comes with a printable paper turkey students can sit inside their traps!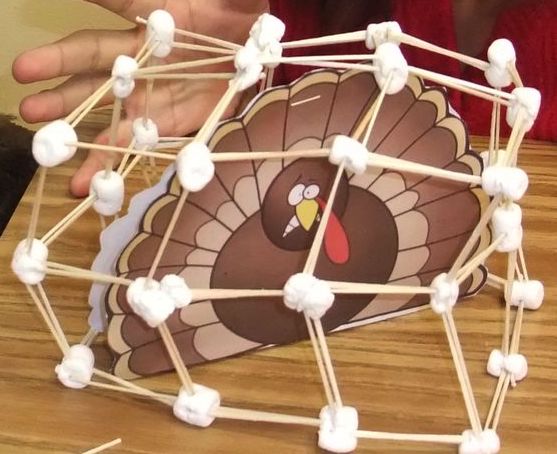 2. Create a model of a Thanksgiving Day float
The Macy's Thanksgiving Day parade is an iconic event in the U.S. Large balloons and parade floats roll down the 2.5 mile route in New York. Have students create their own model of a parade float. Students could make their model out of Legos, foam, cardboard or a number of different things. Line all the floats up and have the class view the floats in a miniature parade.
3. Design a disguise for a turkey
You can create interest for this project by reading the adorable book Turkey Trouble by Wendi Silvano. As Thanksgiving approaches, turkey fears he is going to become the table centerpiece so he tries out various disguises.
After reading the book, have students create their own turkey disguise. You can print out this picture of a turkey and have students color the disguise or glue things on it. Mimi's Dollhouse has some really great pictures of different ideas.
4. Make shelter for a pilgrim
When the first pilgrims came to America they had to hurry and make shelter before winter came, otherwise they would have died. Discuss some different homes Native Americans built to protect themselves and then have students build their own shelter for a pilgrim.
Afterwards, test out their designs by doing a wind and rain test! Sprinkle a little water on the top and see if the inside of their shelter stays dry. Then blow a small fan on the shelter and see if it is sturdy enough to stay standing.
Download posters for all 4 of these Stem Challenges FREE by clicking the button below. You can hang them up in your makerspace or Stem area and let students work on them in their free time. Or, send it home as a challenge for them to do with their parents.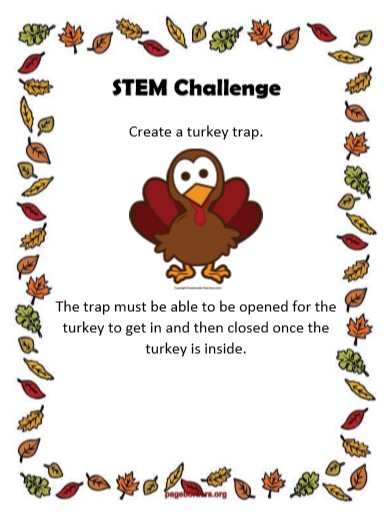 Check out some these other posts you might like: