Even though we are all stuck inside right now, we still need social interaction. Whether you live alone or with your spouse and kids, chances are you'll want to reach out and interact with others outside your home at some point. Here are some creative ways to have fun with friends and family while still practicing social distancing.
1. Make a music video or dance video and share it with your friends.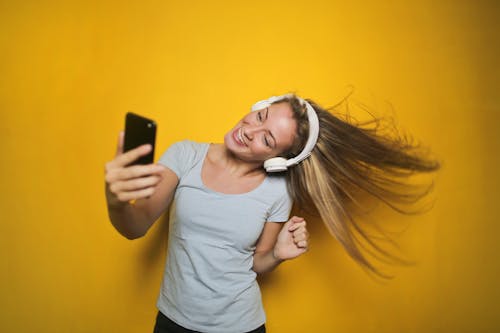 I've seen some people posting their own music videos on Facebook. They are so fun to watch! Turn on some music and make your own video. Then share it with your friends.
2. Watch a movie together.
Decide what movie you are going to watch and each of you play it on your own screen. Start the movie at the exact same time. Text back and forth throughout the movie the same as you would if you were watching the movie in the same room.
3. Play Two Truths and a Lie.
Play this game over text, email on the phone or using Facetime. Tell the other person two things that are true about you and one that is a lie. The other person must decide which statement they think is a lie.
4. Go on a Photo Scavenger Hunt.
Each person will print a copy of the scavenger hunt list. Then, you will go around your own house finding items on the list and taking a picture of yourself with the item. Set a time limit if you want to make the game more competitive. At the end, send the pictures to each other and see who found the most items on the list. You can share photos easily by creating a shared folder on Google Drive.
5. Do a Dancing Chain.
To do this, person one wiggles their hips. Person two does the hip wiggle and then claps their hands. Person three hip wiggles, claps their hands and flaps their arms like a chicken. Each person can add whatever motion they want to but the next person must copy it. Do this together on a video chat platform.
6. Virtual Game Night.
Schedule a time to all come together on a video chat platform (Zoom, Skype, Google Hangout, Facetime etc. ) Play a board game or card game together.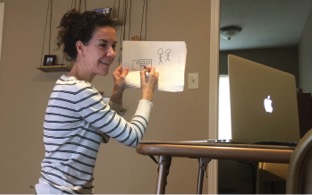 Games That Can Easily Be Played Virtually:
Scattergories. If you don't have the original Scattergories game you can find some here or create your own. Everyone should write down the list. Set a timer for 1 minute. Roll the Scattergories dice or just decide together what letter you are going to use. For one minute everyone should try to think of a work for each item on the list that begins with the letter you agreed upon earlier. At the end share what you wrote for each item on the list. If there are multiple people with the same answer, no one gets a point for that.
Charades/ Pictionary or Guesstures. Find some lists as well as basic rules here.
Yahtzee. Each person will need a set of 5 dice. Print Yahtzee cards here.
Codenames. (One game board required) In Codenames, two teams compete to see who can make contact with all of their agents first. Players give one-word clues that can point to multiple words on the board. Their teammates try to guess words of the right color while avoiding those that belong to the opposing team. To play this game virtually, one person needs to have the Codenames game. That person is basically the game leader and doesn't really play. They set the board game up and send a picture to the rest of the group. Players can do a group text giving clues back and forth to each other that way. Or you can use a video chat platform to play. The game leader will turn over the cards when directed by the other players. Codenames has other versions such as Codenames Pictures, Codenames Disney etc.
Secret Disease Diagnosis. The easiest way to play this game is to have one person playing the doctor and the other people play the patients. The patients sign on to a virtual chat platform and decide what disease, illness or syndrome they all have. For example, they all think they are chickens, that they are Justin Bieber, that they are secret agents, or so on. Once they have decided, then the doctor joins the virtual chat. The doctor must figure out what is wrong. He or she may ask any player a question, but everyone keeps track of the number of questions. After each question, the doctor can make a guess (diagnosis) of what he or she thinks is wrong.
Of course the patients cannot just say what their condition is; they need to give clues in their performance. A person who thinks they are a chicken will suddenly cluck without reason. If they think they are being spied on they may look under the table, and so on. A doctor needs to ask questions, but needs to do so in the role of a doctor.
When the doctor has correctly guessed the name of the condition (or close enough) or it's another person's turn to be the doctor.
Trivia. If anyone has Family Feud, Who Wants To Be A Millionaire, Smart Ass those could easily be played in a virtual chat platform.
I hope you use these ideas to connect with a friend or family member today. Let me know how you liked it by leaving a comment below!